We are very excited to announce our We Are X  title sequence is featured on Art of the Title! We have been long admirers of the site, which celebrates the most incredible title sequences on film and television worldwide. So needless to say we were exceptionally pleased for our sequence to be featured. We were interviewed by Will Perkins, the article was then edited by himself and Lola Landekic. See below for an exert, and you can read the full article here.
(Will) So you've previously worked with We Are X director Stephen Kijak on other documentaries. How did your working relationship with him begin?
Allison: We actually got introduced through Passion Pictures. We started working with him on the film Stones in Exile a few years ago, and since then we've worked on Backstreet Boys: Show 'Em What You're Made Of, Jaco, and some TV stuff. I love working with Stephen — he's really fantastic not just as a director but for giving us so much flexibility and space. He's one of those directors who can give you just enough assets and inspiration to get on with it and not micromanage.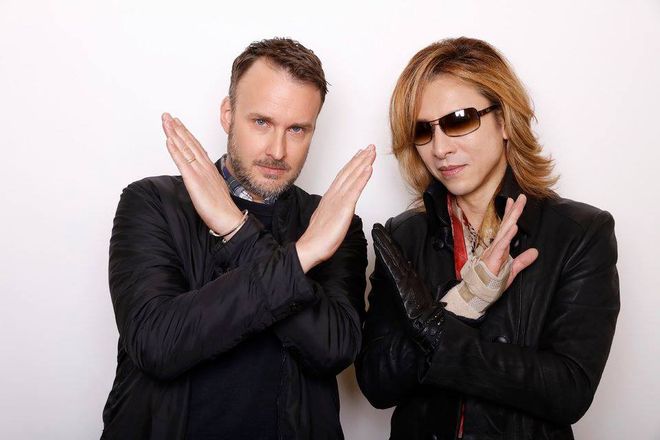 Anthony: He's also a director who takes on very different subject matters — all music docs but very, very different groups in style and aesthetics.
(Will) So you mentioned how Stephen gave you a lot of space to work, but I assume he had some kind of vision for the opening of his film…
Allison: His vision was that he wanted to blow people off their seats. [laughs]
Anthony: Yeah, that was the brief! [laughs]
Allison: It was! The band has this slogan that a journalist coined for them back in the day and they live by it — it's their ethos — it's "Psychedelic Violence Crime of Visual Shock"! It's amazing. When Stephen sent the first email that was big letters at the top saying that's basically what we need to create. That was the best brief I've ever heard in my life! [laughs]
So we knew it needed to be something that was really strong, epic, and really unpredictable, but also had that balance of strength and softness. There had to be beauty because it wasn't gratuitous shock, it was supposed to be quite meaningful. It wasn't masculine, it had to be feminine. "Psychedelic Violence Crime of Visual Shock" is cool, but once you take away all those creative boundaries, where do you go? Quite often I find that when I'm designing it's those limitations that guide you down a certain path.
For the full article click here. Thanks again for Will and Lola for the incredible opportunity to share our sequence with other designers in the community and beyond!